..
Sub-200g MYOG Silpoly Flat Tarp
Originally posted on Reddit.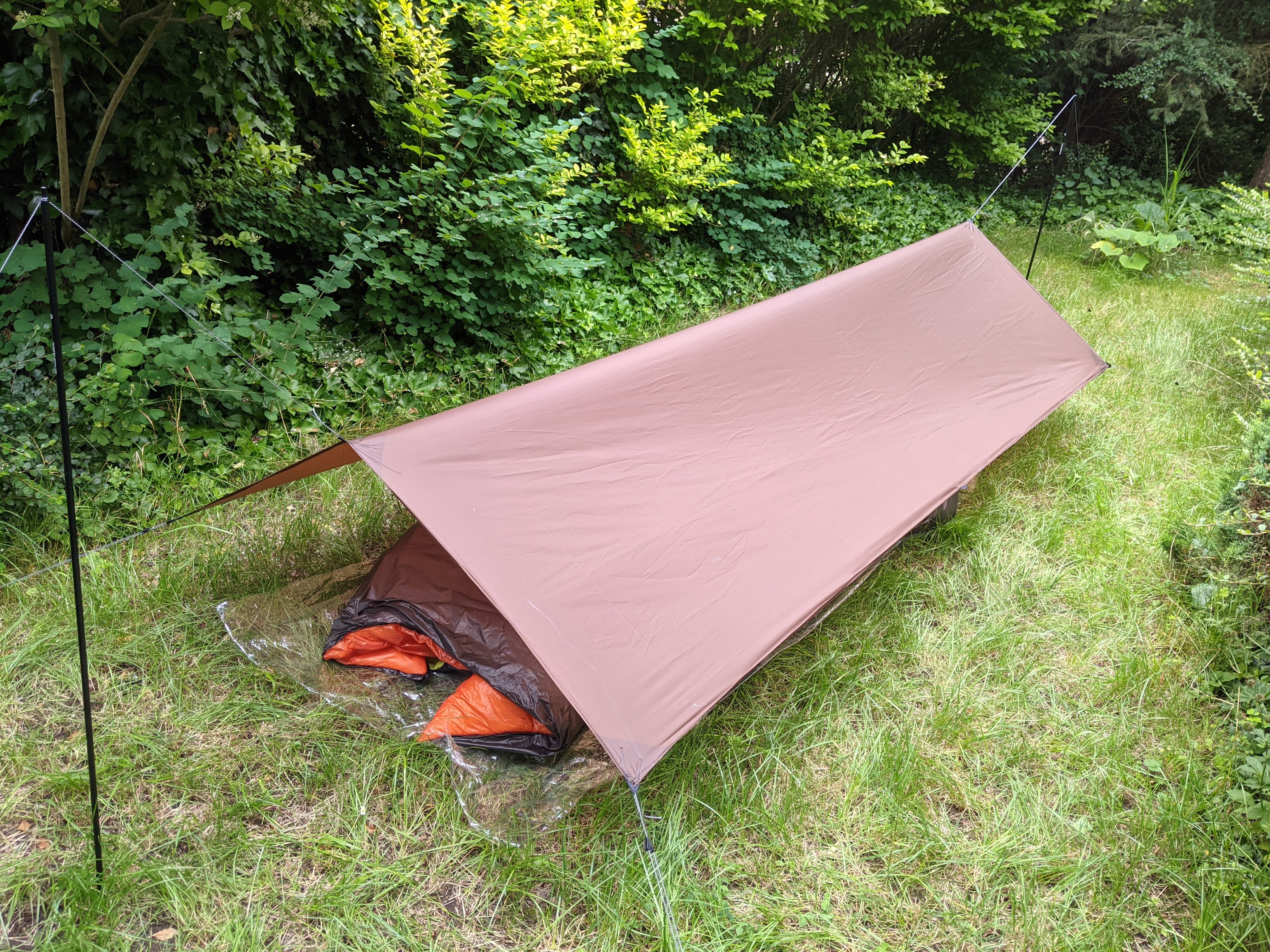 As my second MYOG project (after an Apex quilt - posted a few weeks ago), I chose a flat silpoly tarp.
Dimensions: 280x140 cm (110x55 in)
Weight: 194.2 g (including lines and line-loks)
Design intentions
simple and fast to make
just big enough for a 196 cm (6'5'') guy
light, but functional
not super storm-proof, still good enough for short weekend trips on local trails in fair weather
no ridge-line seam -> no seam sealing and easier sewing
no cat cut (easier to make)
cheap (no DCF)
usable with tent poles (I don't currently use trekking poles)
Inspiration
This build is heavily inspired by u/noemazor's silpoly tarp. The main differences are:
no bug net (might add later)
no taper towards the end, because I ordered the non-XL silpoly by mistake, so it's already very narrow (about 140 cm)
glued, not sewn reinforcements
mini line-loks instead of the usual ones (still not sure which is better)
a bit longer (to accommodate my height)
A lot of the details and sewing techniques are also based on videos by Bruce from Nature Calls Backpacking. This tarp features his signature sail-style tieouts.
Review
Overall happy with the results, I will continue using it over this summer
I would make it a little bit bigger, both in width and length, to decrease sleeping pad positioning anxiety and have more space for my backpack and gear.
Silpoly is a good material, would use again.
I'm not sure if the mini Line-loks are the best option, I like the other ones used in the original tarp, but I don't like that they are sewed on permanently (can't be easily replaced).
I'm happy with the glued reinforcements, but I'm not sure if they will hold up long-term. I might also sew them on and seam seal them.
My imperfect gluing left a lot of shiny glue marks around the reinforcements. Looks odd, completely functional.
The 1.3mm Dyneema lines are super strong and work well with the line-loks, but they tangle easily in my backpack, not sure what to do about it.
My 114 cm SMD tent poles work well, but they are a bit too long.
It's lighter than I expected and packs very small.
Materials
I'm from Europe, so ordering from the ever popular RSBTR doesn't really make sense. A lot of their materials are sold by adventurexpert.com (Slovenia), where I ordered all the materials (excluding the glue):
3 m of 20D Silpoly Ripstop (I'm pretty sure this is the same as RSBTR 1.1 oz Silpoly)
Gütermann Mara 70 thread (used with a 90/14 universal Schmetz needle)
1 m of Grosgrain ribbon - 10mm (just enough, would maybe order more)
15 m of 1.3mm Dyneema with polyester cover (did not use all of it)
9 x Mini Line-Lok tensioner
Seam Grip + Sil glue
Sewing instructions
I tried to make it as simple as possible, so it can be easily reproduced
Take the 3 m of fabric and cut off a 15 cm strip at one end.
From this strip, cut 3 15cm sections, so you have 3 15x15 cm squares.
Cut the squares in half -> 6 triangles for reinforcement.
Glue 4 triangles to the corners of the fabric and the remaining 2 to the middle on both sides (ridgeline reinforcement).
Let the glue dry for a couple of hours.
Sew a rolled hem around the whole rectangle fabric (3mm stitch length).
Sew on the 9 grosgrain tieouts (using the Nature Calls method).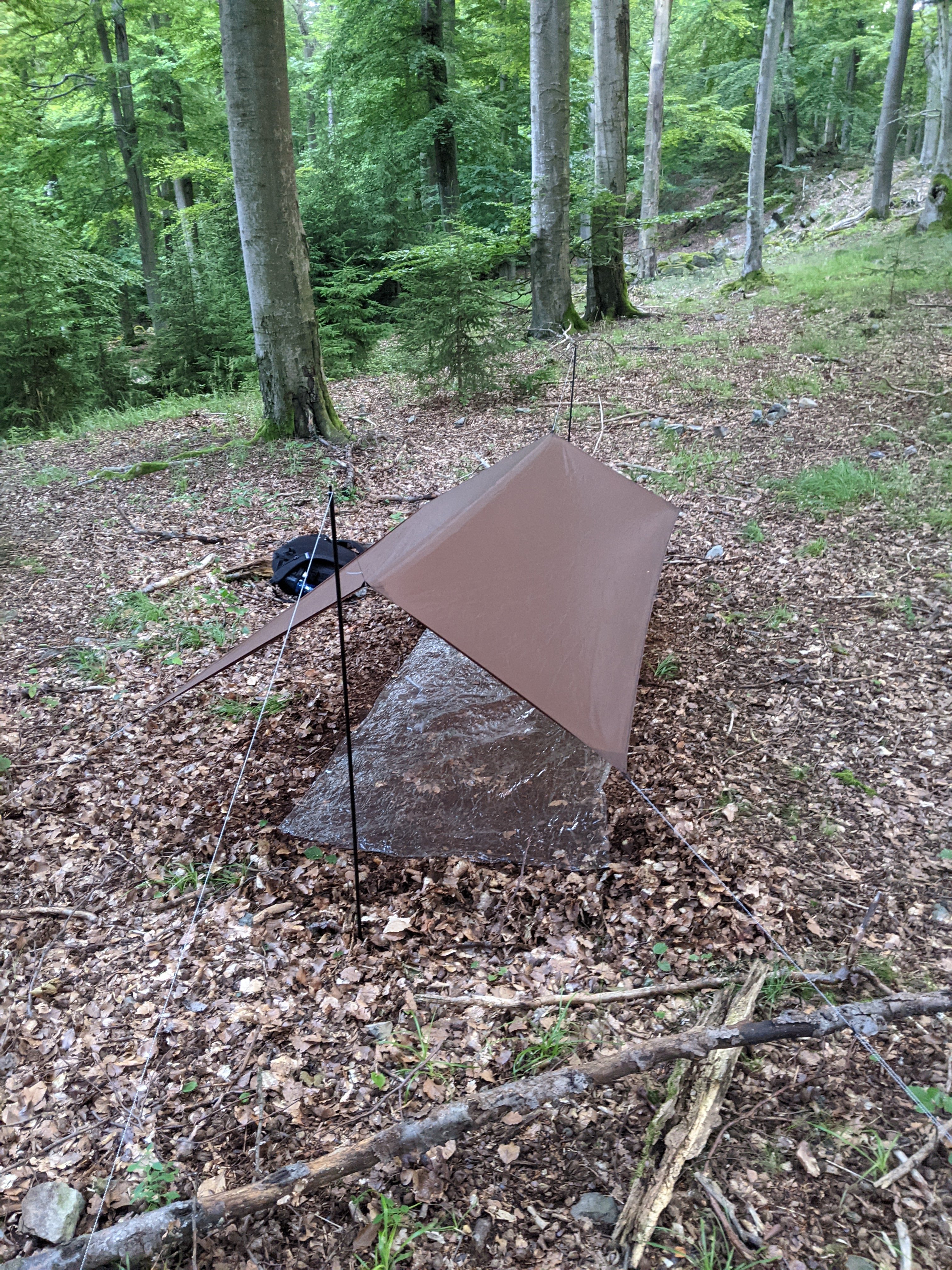 The first real test on a weekend trip.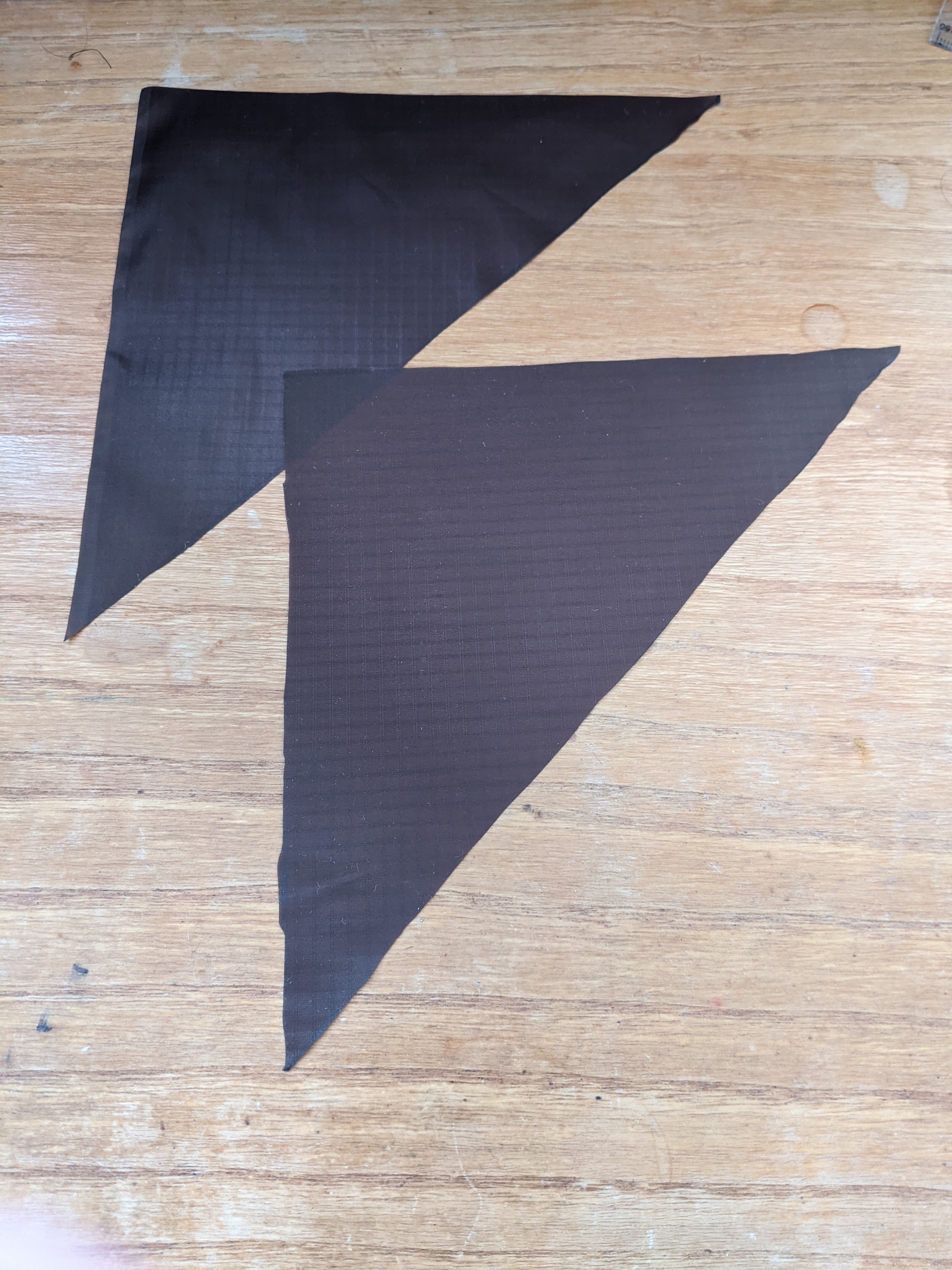 First I cut out 6 reinforcements for the corners and ridgeline tieouts.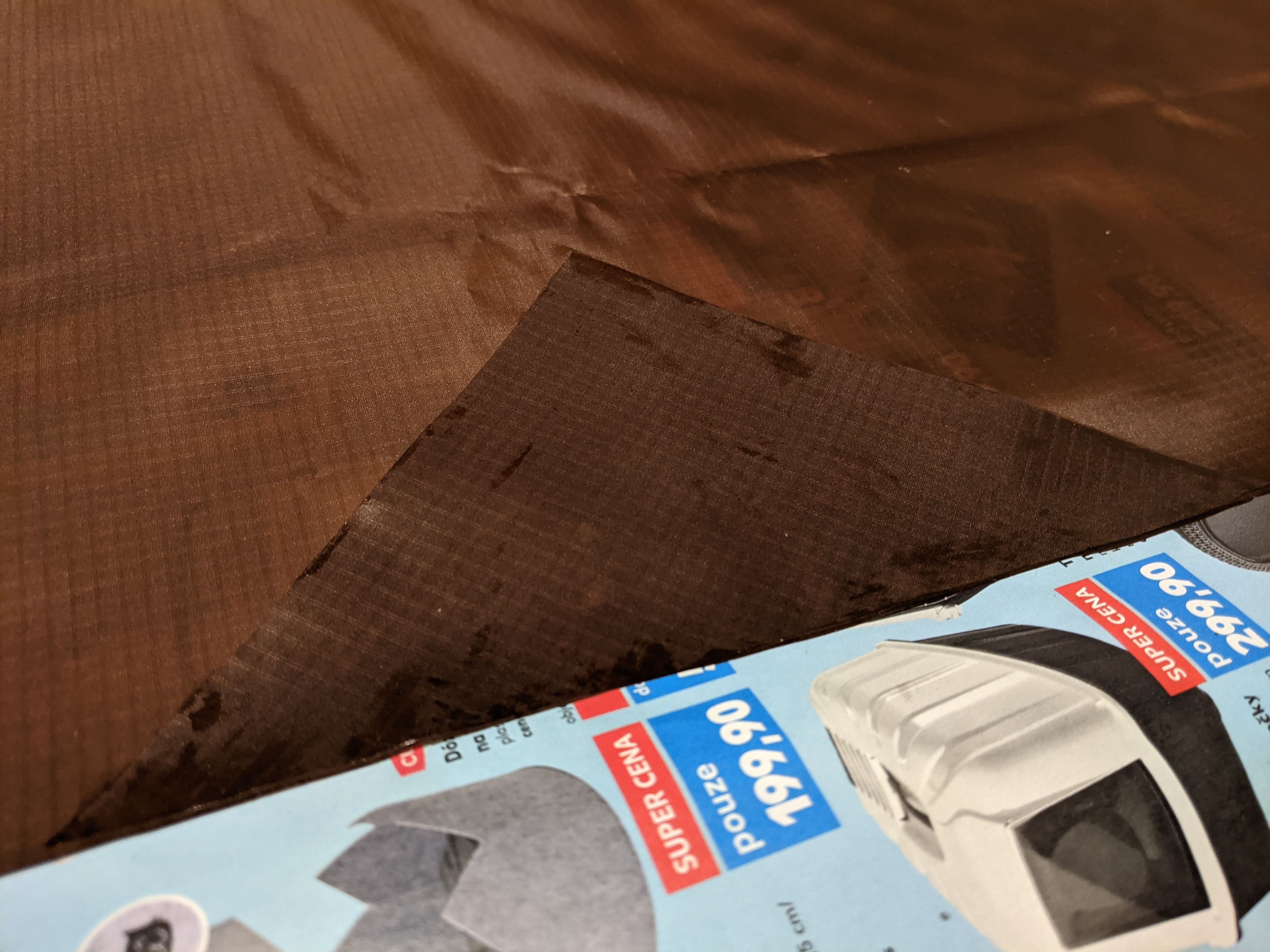 Reinforcements glued to the main fabric using the Seam Grip glue. I let it dry overnight.
Sewing a rolled hem around the edges.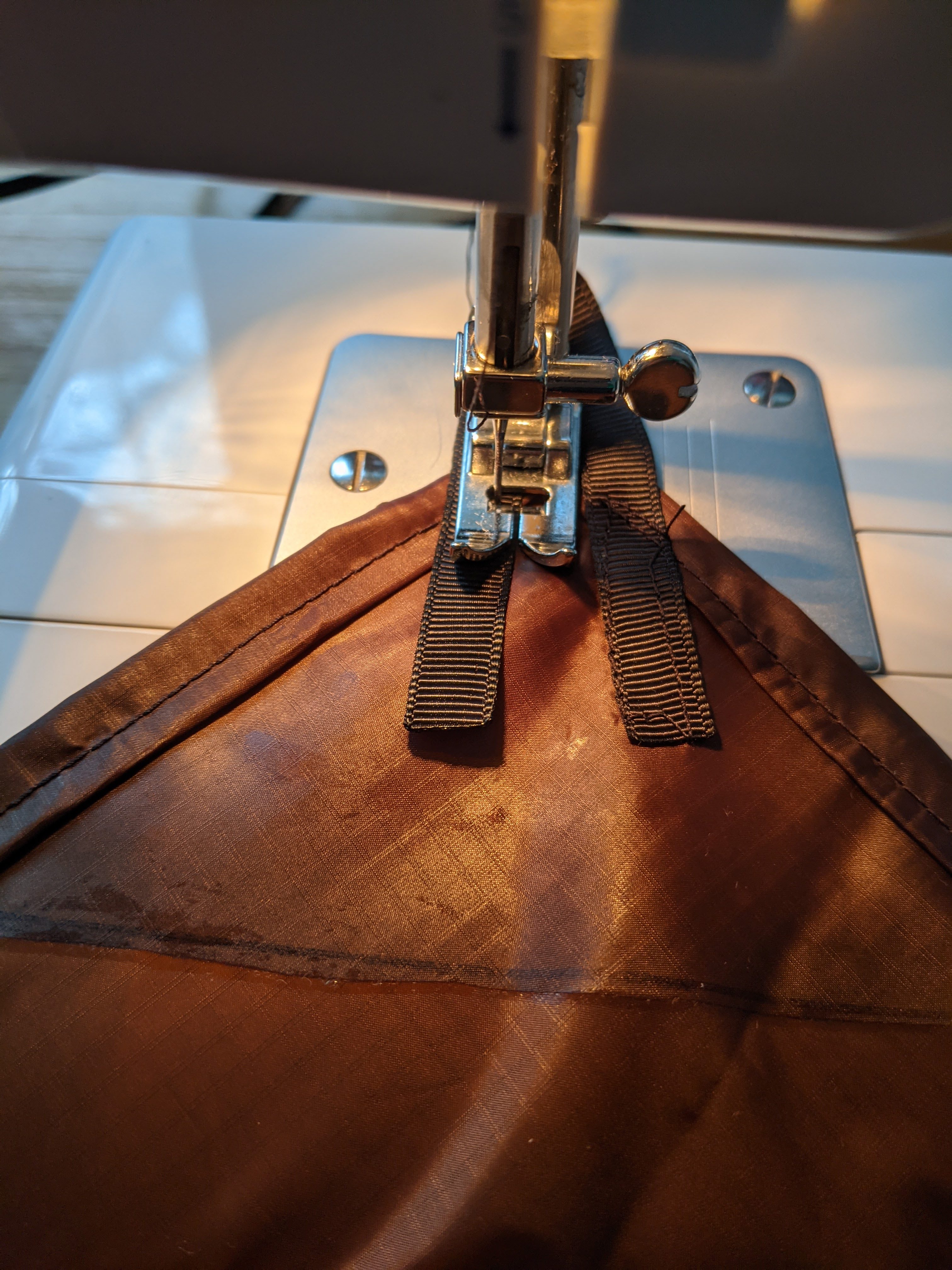 Sewing on the tieout grosgrain. This was more difficult than it seemed, but I got the hang of it by the end.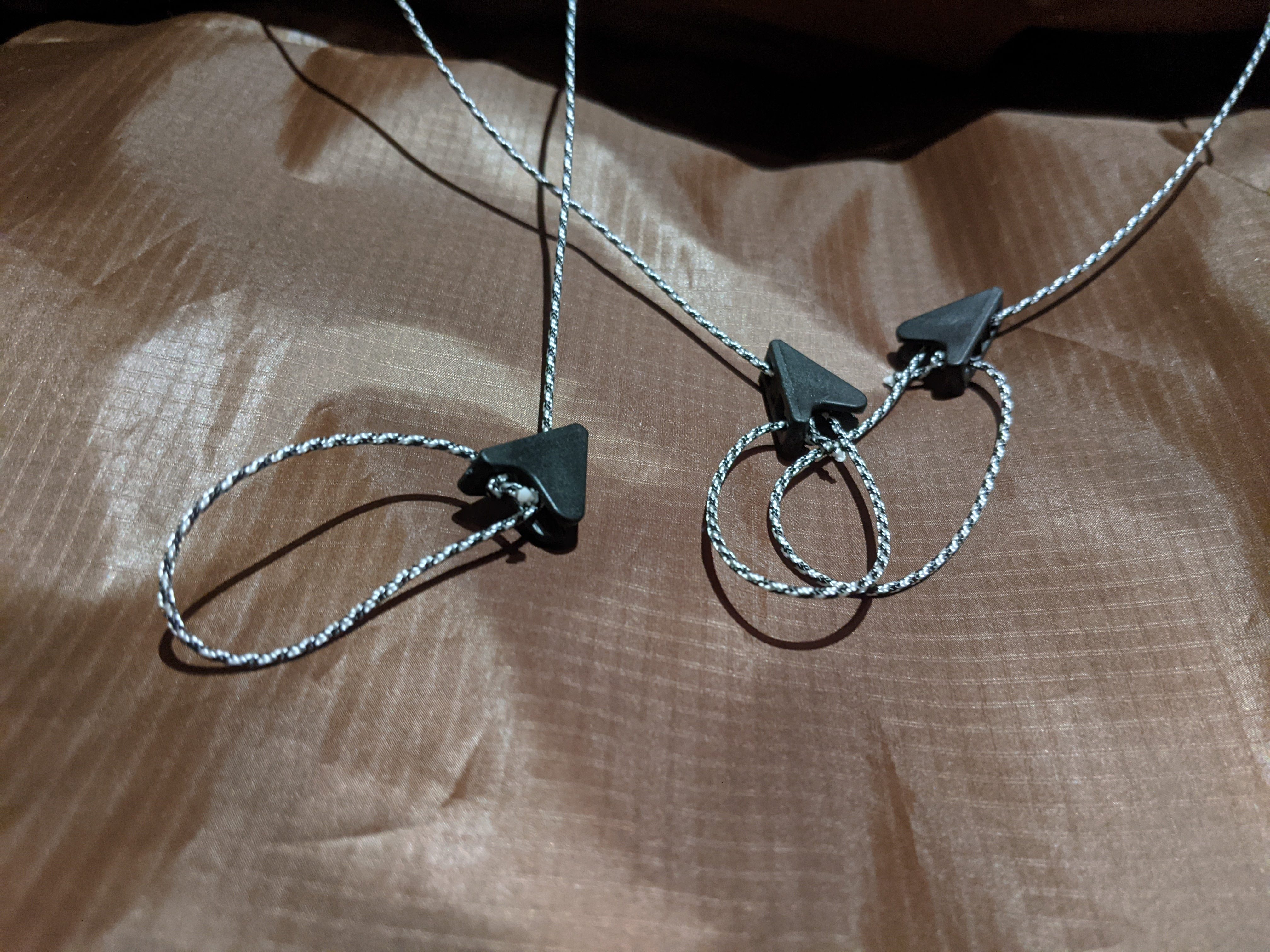 Adding lines with mini line-loks.